Drop-a-Note Short Messaging module for Joomla!
= About Private Notes =
The Premium and Business editions of this module include the Private Notes feature. This feature is unique and adds real value to the module.
TIP: Install the Drop-a-Note Premium or Business module - with Private Notes enabled - and make this your startup website of your browser. You will always be reminded what you have planned for today.
What are Private Notes ?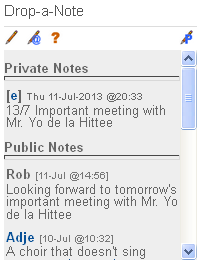 Private notes are like short reminders, 'to-dos' or scribbles on a note pad, only accessible by you. If your startup website has installed this module with Private Notes enabled, you will always see your active private notes. They are not a full replacement of your agenda, but may just help not to forget that one thing you had planned for today. Your web browser must have cookies enabled.
How to submit a new private note
Things hardly come any easier than this. Click on the pencil icon that has the letter P in it and fill in the form that will appear next. The form is self-explanatory. When you're done, just click the submit button. That's all ! Try the demo.
Private note content
Content can be almost any character string. Web links and tags (http://, @ or #) may be converted into clickable links. You can click on the [e] link to edit the note at any time.
Private note lifetime
The lifetime can be set either by duration (e.g. 1 day) or by expiry date (e.g. 12-Jan-2016, which expires the note on 12th Jan 2016 at 00:00 hrs).
Private note storage and privacy
Private notes are first encrypted and then stored as a cookie on the submitting device. They are processed by the web server but are not stored on it and can only be viewed through the website where they have been submitted and only on the submitting device.
Although the content of your private notes is encrypted and can therefore not be easily read by humans or computers (other than your own device), you should avoid including sensitive data like passwords, credit card details etc. If you delete cookies on your device, all your private notes will be lost beyond recovery.
In other words: If you have accidentally deleted or lost your private notes, don't call your website administrator; he or she will not be able to recover them, because your private notes have resided solely on your personal device and that's exactly where you have deleted them from...